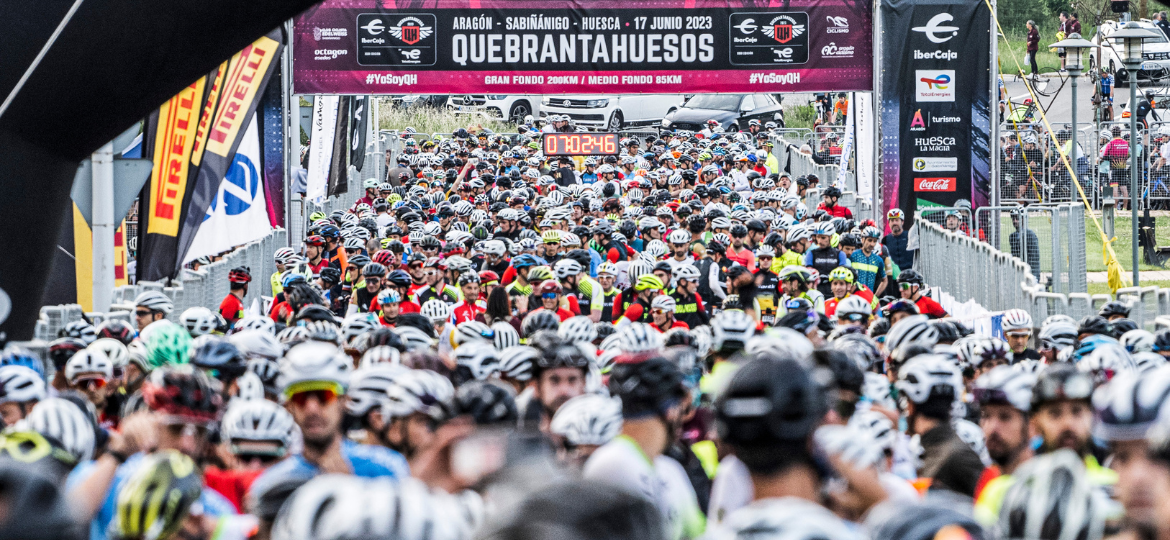 You were expecting it. The Marcha Cicloturista Ibercaja Quebrantahuesos by TotalEnergies 2024 opens its inscriptions on Tuesday, November 21. All those who want to ride next June 22nd in Sabiñánigo will have to participate in the draw for places by registering between November 21st at 11am and January 8th at 1pm (Spanish peninsular time).
To do so, the organisation will make a public announcement through its main social networks and channels, and all the information will be available on the official website, as well as the main way to register.
After the closing of registrations, the expected draw for the week of 8 to 14 January will take place; however, the organisation will define and publicly announce the final date and venue of the draw for places before the opening of registrations.
Only groups with direct places will be exempt from this prior step, as is customary in each edition:
Participants who have completed 15 or more editions of Quebrantahuesos Gran Fondo.
Those who contract Pack Premium or Pack Training PRO.
Participants who completed the challenge Pirineos No Limits 2023.
Participants of Comunidad Madrid 7 Picos 2023.
Participants who suffered an accident during the 2023 edition and were taken to hospital by the organisation's medical services.
Those who have won a place through the organisation's or sponsors' raffles.
All of them will be able to register from the 14th of November at 11am until the 14th of December at 1pm (Spanish peninsular time), while those who want to get their Pack with a direct place will be able to do so from the 21st of November until the 29th of February or until stocks last.
The organisation reserves the right to modify the calendar of dates in case of logistical necessity or justified cause. In the hypothetical case of change, it will be informed through the official channels of the march: web, social networks and e-mail.