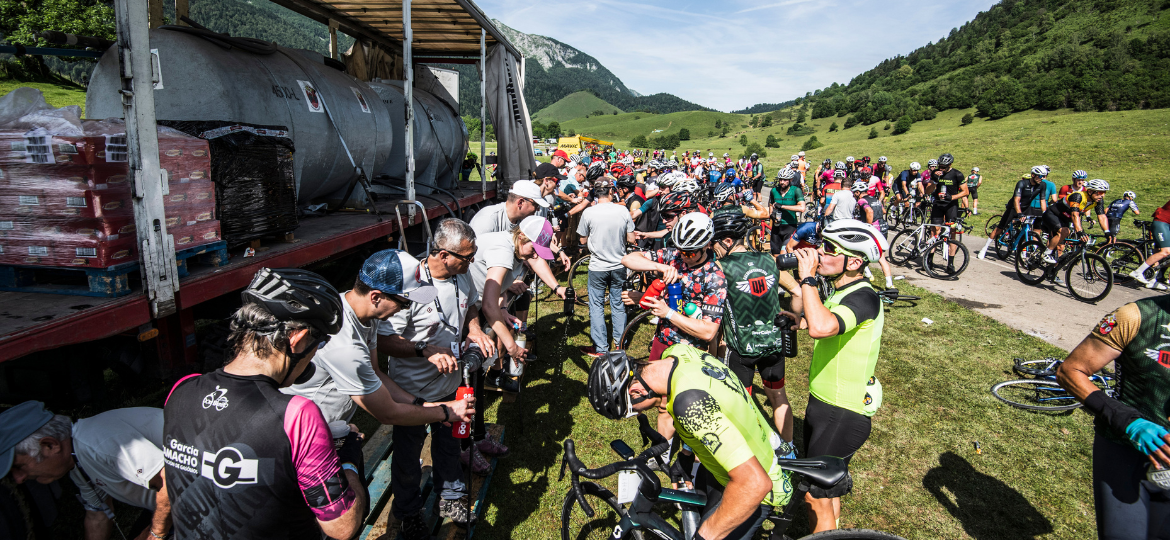 Here begins the final configuration of the next Quebrantahuesos. From today, Tuesday 14th of November, at 11 am (Spanish peninsular time), those who belong to groups with a direct place can already register through the official platform.
All those who fall into one of the following groups can make their registration for the next Marcha Cicloturista Ibercaja Quebrantahuesos by TotalEnergies
Participants with 15 or more editions completed in the Quebrantahuesos Gran Fondo.
Those who registered and completed the three marches of the Pyrenees No Limits 2023 challenge (3 Nacions, Quebrantahuesos and L'Ariégeosie).
Participants of the Madrid 7 Picos 2023, in its 7 Picos and 4 Picos modality.
Participants who suffered an accident during the 2023 edition and were taken to hospital by the organisation's medical services
The organization has worked to implement a new registration platform which will allow, among many other things, to register to Quebrantahuesos to consult the historical data of your participations, to register to the draw for places or directly to the final place of QH or TR, allowing you to enter again to the registration to modify personal data or to contract other services (day insurance, photo pack, training, products from the Alé Cycling collection, etc.).
In addition, it will no longer be necessary to receive the usual "access codes" but, internally, the data of the cyclists of the direct place group (or the lucky ones of the draw soon) will be enabled so that they can formalise the registration within the established deadline.
Therefore, to access the registration platform you need to follow the following steps:
1. Click on the official registration page.
2. USER ACCESS:
a. If you have ever participated in QH, click on "recover password", enter your Document number and follow the steps to register to QH with your Username and Password.
b. If you have never participated in QH before, click on "register new user" and follow the steps to register to QH with your username and password.
3. MY PERSONAL DATA: the personal data you provided at some point to register will appear. Check that they are correct or modify them if necessary.
4. USER AREA: you must click on "New Registration", check that your details are correct and select the type of route you wish to register for: Quebrantahuesos or Treparriscos. IMPORTANT: this choice is definitive, so if you register for Treparriscos, you will not be able to change to Quebrantahuesos.
5. EVENT AND PAYMENT DETAILS: fill in the necessary fields in order to formalise your registration and have your bank card ready to proceed to the secure online payment.
6. CHECK YOUR REGISTRATION: to check that you are correctly registered you can carry out the following checks:
a. Check it in your private area of the QH user.
b. Check the confirmation email that should have arrived to your email address.
c. Check with your bank that the payment has been made correctly.
The registration period for these groups with direct places will end on Thursday 14 December at 13h (Spanish peninsular time).
If you have any doubts about your registration, please write to info@quebrantahuesos.com.