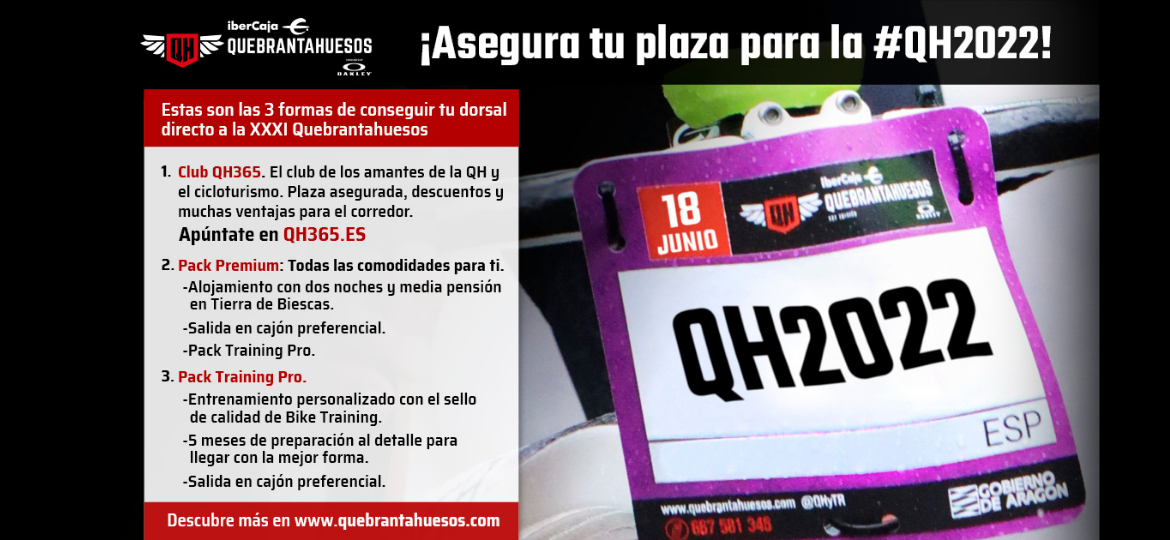 The Marcha Cicloturista Ibercaja Quebrantahuesos sponsored by Oakley is one of the great events of the route cycling world and year after year it attracts the interest of thousands of cyclists from all over the world. For this reason, and in order to ensure the equality of options and a proper logistical operation, it is necessary to make the classic draw for places – to which you can already sign up.
However, wanting to ensure your presence at the Quebrantahuesos is a common desire. Are there any ways to avoid the draw and have a guaranteed place? Yes, it is possible through the QH365 Club, the Premium Pack and the Training Pack.
The QH365 Club is the club for QH and cyclotourism lovers; an exclusive group that you can be a part of to benefit from discounts, promotions and a wide variety of advantages that every rider should enjoy. In addition, being part of the Club will grant you a spot in the Quebrantahuesos 2022.
Premium Pack
In addition to the guaranteed place in the Quebrantahuesos Gran Fondo and all the advantages of the Training QH Pro, you will enjoy…
– Hotel Tierra de Biescas
Located in the town of Biescas, the accommodation is 15 minutes from Sabiñánigo, the starting point of the Quebrantahuesos 2022. The pack includes the nights of June 17 and 18 on half board, breakfast and dinner, with personalized attention.
The hotel also has some spaces enabled to store bicycles and it will be the place where every premium pack enjoyer will receive the participant's bag, bib and jersey.
– Starting box number 2.
In order to make a correct management of the start, all runners will be divided into boxes. These are organized according to previous accredited times, with the bulk of participants in the last drawer: the gray one. By contracting this pack, you ensure a place in the starting box number 2.
– Training PRO Pack.
Training Pro Pack
The Training Pro Pack is aimed at all those who want to arrive at the best shape to the Quebrantahuesos and improve their results.
The pack consists of a personalized training plan with individualized attention to get the best performance in a safe, responsible and always progressive and motivating way.
The planning is closed and specific according to the characteristics of the test and the 5 months of previous preparation. The service, always under BikeTraining's professional criteria, includes a closed individualized plan in terms of intensity: BikeTraining staff will contact each user to propose a specific test on which the plan will be based.