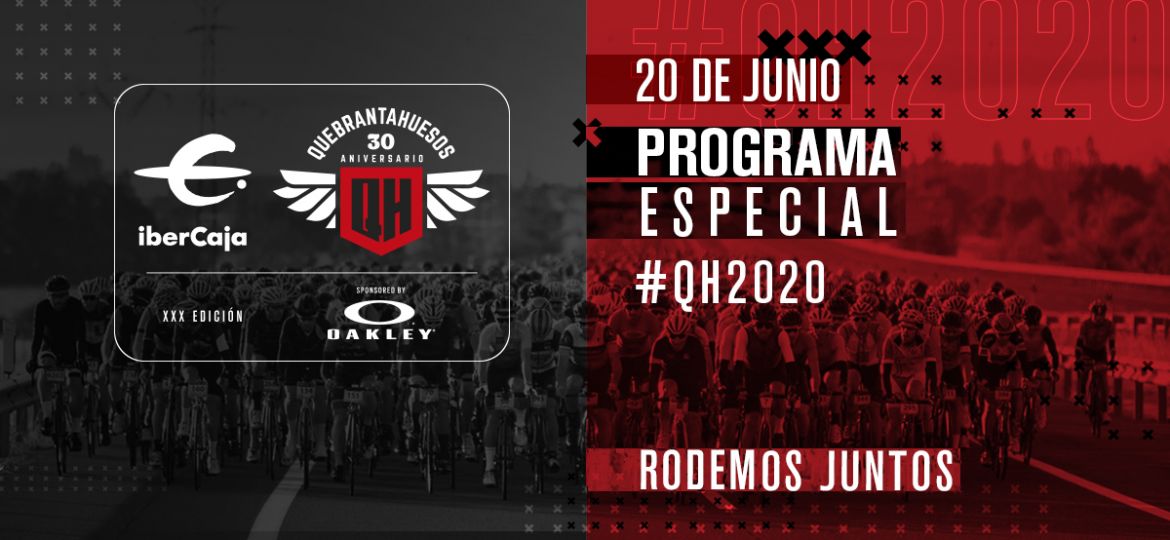 On June 20 we will not be able to be cycling in Sabiñánigo as we would like to, but want to celebrate the XXXth anniversary of the Marcha Cicloturista Ibercaja Quebrantahuesos presented by Oakley in a unique way: with a special live programme.
What will we find in the programme on Saturday, June 20?
To start, we will be live from Sabiñánigo to see first-hand all the news of Quebrantahuesos from the iconic starting point of the marcha.
We will start at 10:00 am revealing the first surprises: the raffles that we will carry out throughout the day; a Saturday loaded with familiar faces and great moments spread throughout the day.
At 12:00, we will interview the cyclist of the Movistar Team from Sabiñánigo, Jorge Arcas, together with the mayor of the town, Berta Fernández Pueyo.
Next, we will chat with the five-time Tour de France winner Miguel Induráin.
At 1:00 p.m. we will review the 30 years of the Quebrantahuesos and some of its best memories with the Edelweiss Cycling Club, alma mater, founder and organizer club of the QH that will show us the march special essence.
Noche Torre, Marketing Director of Ibercaja, will talk about the special relationship between the Quebrantahuesos and Ibercaja: 30 years growing together.
Before stopping to rest and gain strength, we will speak with Roger Pérez, CEO of Ergonutri, an independent nutrition consultant, who will give us some new advice on nutrition.
From 3:00 p.m. to 4:00 p.m., through Instagram Live, we will have José Antonio Hermida interviewing great personalities from the world of cycling, volunteers, organization and historical participants of the march.
At 4:00 pm we will remember the spirit of the Quebrantahuesos with 4 amateur participants who already showed us their experience in an unforgettable report in 2012.
From 5:00 p.m. to 5:30 p.m., Óscar Pereiro will be live on La Quebrantahuesos' Instagram Live; a digital reel session accompanied by the incredible voices of Huellas con Historia by Continental.
At 6:00 p.m., Bike Training will explain live how to prepare the first weeks of sports planning and face the Quebrantahuesos on September 19.